3 February 2007
Lee Kong Chian Reference Library, Singapore

Di Dalam Berkekalan Kebaktian:
An Intellectual Endeavour Par Excellence
Lecture In Memoriam of Prof. Syed Hussein Alatas
Programme
* Eulogies by Dr. Yaacob Ibrahim (recited text) and Dr. Noor Aisha Abdul Rahman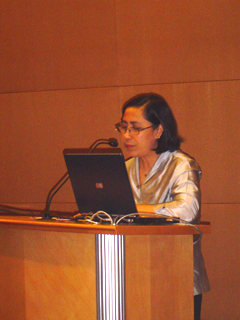 Dr Noor Aisha reciting a eulogy in
Memoriam of Syed Hussein Alatas

* Short Speech by Mr. Idris Rashid Surattee Khan

* In Memoriam Lecture by Mr. Azhar Ibrahim Alwee

* Recitation of Poems by Mr. Rafaat Haji Hamzah

22 September 2007
Lee Kong Chian Reference Library, Singapore

BOOK LAUNCH
Moral Vision and Social Critique:
Selected Essays of Syed Hussein Alatas
Programme
* Opening Remarks by Prof. Syed Farid Alatas [Head of Malay Studies Department, NUS]

* Book Discussion with Muhamad Zaki Jalil

14-16 Disember 2007
Kuala Lumpur
Menggagas Makna Progresif
Pertemuan The Reading Group (TRG) dan
Komunite Seni Jalan Telawi (KsJT)
Mengenai Lawatan TRG
Program ini bertujuan mempereratkan jalinan rangkaian dan kerjasama informal antara dua komunitas pemikir dan aktivis seputar isu-isu pemikiran dan gerakan masyarakat.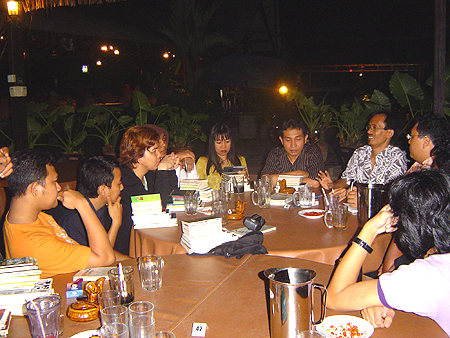 Meeting with Komunite Seni Jalan Telawi in Kuala Lumpur
Aturcara Lawatan TRG
14 Dec: Hadir Sesi Public Intellectual Forum (PIF) Siri ke-6, anjuran Middle Eastern Graduates Centre (MEGC) -
'Kebebasan Agama, Bukan Dialog' oleh Lutfhi Assyaukanie

15 Dec: Sesi Diskusi TRG/KSJT 1 -
'Memaknai Agama Progresif' oleh Azhar Ibrahim Alwee

16 Dec: Sesi Diskusi TRG/KSJT 2 - 'Demokrasi Asia Tenggara
Selepas 10 Tahun (1997-2007): Pengalaman Malaysia' oleh
Fathi Aris Omar

3 Mei 2008
Malay Heritage Center (Istana Kampung Glam), Singapore

Cita Manusia Melayu Baru:
Syarahan Memperingati Almarhum Rustam A. Sani (1944-2008)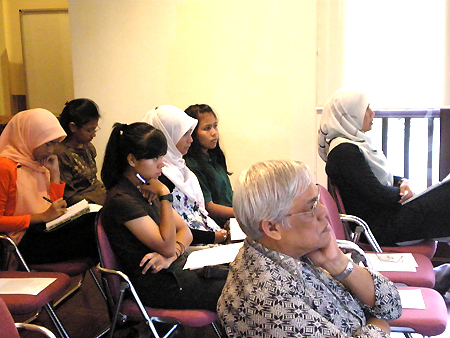 3 Mei 2009
Malay Heritage Center (Istana Kampung Glam), Singapore

FESTIVAL MELAYU ADA
in conjunction with
MALAY ARTS FESTIVAL
(1-3 Mei 2009)
BICARA I
11pg -12.30tgh
Sejarah Rakyat:
Pemberdayaan Melawan Cita Bencana
Dr. Azhar Ibrahim Alwee
Jabatan Kajian Melayu
Universiti Kebangsaan Singapura (NUS)

Seminar ini cuba merungkai persoalan sejarah dari perspektif alternatif
yang menyanggah tafsiran sejarah yang cenderung mendukung idea dominan,
baik dalam fasa feudalisme, kolonialisme, orientalisme, dan nasionalisme
mundur. Visi dan peranan sejarah rakyat merangkumi empat segi utama,
iaitu:
(1) menyanggah cita bencana dalam sejarah;
(2) mendukung pemberdayaan; dan
(3) menghargai sejarah sebagai visi moral, sambil
( 4 ) mengambil kira kelompok mana yang telah membenarkan
peminggiran dan pensenyapan suara, hak dan harkat rakyat.

Yang penting dalam menelurusi sejarah ini, harus dapat kita mengenalpasti
dan menghargai terungkapnya resilience rakyat dalam mengharungi
dan berhadapan dengan kehidupan.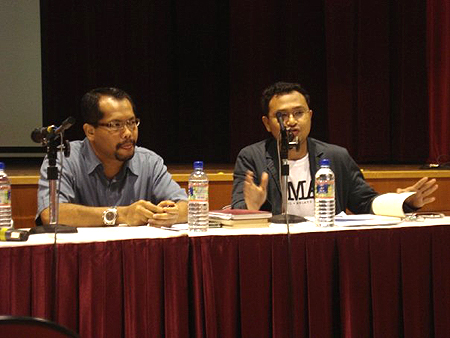 BICARA II
4.30 - 6ptg
Kritik Sejarah, Sejarah Kritis:
Upaya Merungkai Pendekatan Sejarah Kebudayaan Melayu
Mohamed Imran bin Mohamed Taib
Aktivis Sosial,
The Reading Group, Singapore
Sejarah adalah suatu bidang keilmuan yang menafsir masa lampau
supaya membawa makna tertentu kepada kehidupan manusia hari ini.
Upaya pensejarahan itu bukan setakat mengkaji, mencatat atau melapor
segala hal yang terjadi dalam meriwayat dan menafsirkan kehidupan sesuatu
bangsa. Sebaliknya, ia melalui proses pemilihan dan pengasingan dari
bahan-bahan sejarah, yang akhirnya merumuskan gambaran atau
representasi akan hakikat sesuatu bangsa.
Gambaran dan representasi inilah yang akan dibincangkan di dalam sesi ini.
Pada masa yang sama, sesi ini akan mengupas pendekatan-pendekatan
dominan dalam proses pensejarahan dunia kebudayaan Melayu. Ini adalah
sebahagian dari upaya membangunkan tradisi sejarah yang lebih kritis.
Tanpa pemahaman sejarah yang kritis, masyarakat Melayu akan senantiasa
dibelenggu corak pemikiran dan orientasi sosial yang merantai potensi
bangsa untuk berkembang bebas.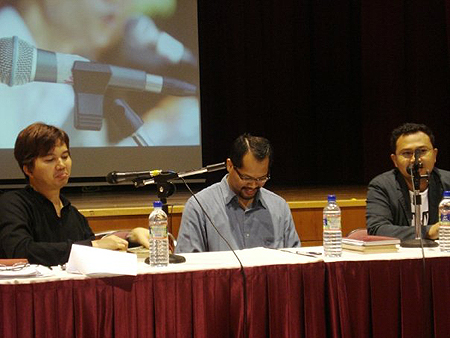 5 June 2010
Wisma Mendaki
Workshop on
'Introduction to the Evolution of Islamic Thought'
conducted by Ridzuan Wu
(Deputy President, Regional Islamic Da'wah Council of Southeast Asia and the Pacific - RISEAP)

Organised by Leftwrite Center,
supported by the Reading Group, Singapore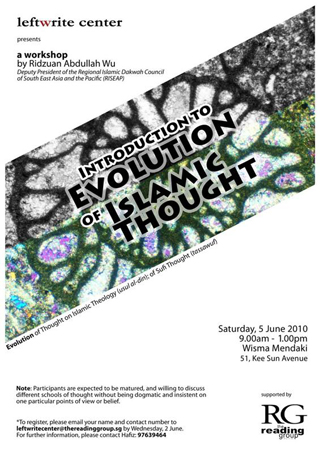 Event Brief
The workshop covered the evolution of thought on Islamic theology, and on the evolution of sufi thought. Various aspects of Islamic Theology were discussed: from the origins of aqidah [belief-system] as understood by Sunni Muslims, to similarities and differences with other Muslim understanding of aqidah such as (a) the Shi'a – the beliefs of the ithna ashari (including the Alawis), the Isma'ilis (the Nizaris, the Must'ali Ismailis, the Druze), and the Zaydis; (b) the Khawarij and the last surviving school, the Ibadis; (c) the Mu'tazilas, followed by the response of the Asharites; and (d) the Qadiani as well as the Lahori Ahmadis.
The session also discussed the evolution of Sufi Thought, and in particular, the context for emergence of Sufi concepts. The practices of the early Sufis (Hasan Basri, Bayazid Bastami, Abdul Qadir al-Jilani and Abu Madyan) and the impact of their beliefs/practices were also discussed. Subsequently, the session looked at the rise of the Tariqah/Turuq (introducing the Chistiya, the Qadiriyyah, the Shahdilliya, Mawlawi, the Naqshabandi, and the Safawi orders). The thoughts of ibn 'Arabi and Jamal al-Din Rumi, were given special attention, and the ideas of those who have criticised the practice of Sufism (Ibn Taymiyya, ibn Abdul Wahhab) as well as those who have called for its reform (Sirhindi, Shah Wali Allah, Hamka) were put in context.
Additionally, the session gave attention to the practice of Sufism in Singapore: the 'Alawiyyah order, the Ahmadiyya-Idrisiyah order, the Naqshabandi-Haqqani order, the Qadari-Naqshabandi order, and the practice of tawassul at dargahs/karamats in Singapore. Finally, there was discussion on issues that arose from the Malaysian fatwa banning Al-Arqam and the practice of Aurad Muhammadiyah, in order to discuss its implications on the practice of Sufism.

4-5 December 2010
Department of Malay Studies, NUS
Workshop on
'Deepening Democracy, Resisting Fundamentalism'
Organised by
Leftwrite Center (Singapore),
Centre for Pesantren Studies (Bogor, Indonesia),
YMCA Metro (Jakarta, Indonesia),
supported by the Reading Group, Singapore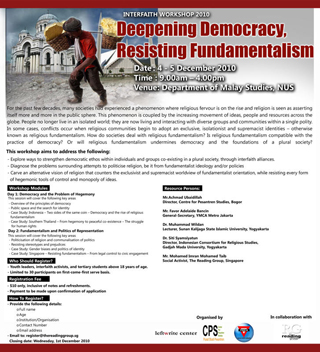 Synopsis
For the past few decades, many societies had experienced a phenomenon where religious fervour is on the rise and religion is seen as asserting itself more and more in the public sphere. This phenomenon is coupled by the increasing movement of ideas, people and resources across the globe. People no longer live in an isolated world; they are now living and interacting with diverse groups and communities within a single polity.
In some cases, conflicts occur when religious communities begin to adopt an exclusive, isolationist and supremacist identities – otherwise known as religious fundamentalism. How do societies deal with religious fundamentalism? Is religious fundamentalism compatible with the practice of democracy? Or will religious fundamentalism undermine democracy and the foundations of a plural society?
Objectives
Explore ways to strengthen democratic ethos within individuals and groups co-existing in a plural society, through interfaith alliances.
Diagnose the problems surrounding attempts to politicise religion, be it from fundamentalist groups and/or policies.
Carve an alternative vision of religion that counters the exclusivist and supremacist worldview of fundamentalist orientation, while resisting every form of hegemonic tools of control and monopoly of ideas.
Modules

Day 1: Democracy and the Problem of Hegemony
Overview of the principles of democracy
Public space and the search for identity
Case Study: Indonesia
Two sides of the same coin – Democracy and the rise of religious fundamentalism
Case Study: Southern Thailand
From hegemony to peaceful co-existence – The struggle for human rights
Day 2: Fundamentalism and Politics of Representation
Politicisation of religion and communalisation of politics
Resisting stereotypes and prejudices
Case Study:
Gender biases and politics of identity
Case Study: Singapore
Resisting fundamentalism – From legal control to civic engagement
Resource Persons
Dr. Muhammad Wildan
Lecturer, Sunan Kalijaga State Islamic University, Yogyakarta, Indonesia
Dr. Siti Syamsiyatun
Director, Indonesian Consortium for Religious Studies, Gadjah Madah University, Yogyakarta, Indonesia
Mr. Favor Adelaide Bancin
General-Secretary, YMCA Metro, Jakarta, Indonesia
Mr. Achmad Ubaidillah
Director, Centre for Pesantren Studies, Bogor, Indonesia
Mr. Mohamed Imran Mohamed Taib
Social Activist, The Reading Group, Singapore

29 March 2011
Onepeople.Sg
Documentary Film Screening of
'Aku Siapa?' [Who Am I?]
by Norhayati Kaprawi, independent film-maker

Organised by Leftwrite Center (Singapore) and the Reading Group, Singapore; supported by Onepeople.Sg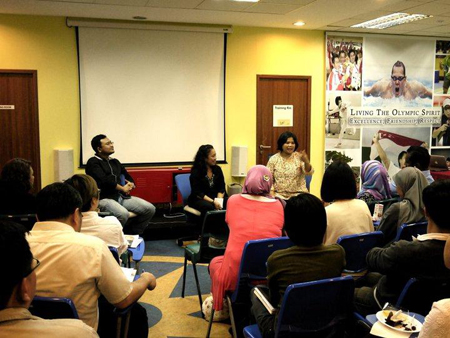 Synopsis
"Aku Siapa?" focuses on why Muslim women in Malaysia wear the hijab [headscarf/tudung] and the challenges they faced. Through a series of candid interviews with Muslim women, young and old, urban and rural, director Norhayati Kaprawi uncovers why Muslim women wear the hijab, and why some take it off. The interviews also demonstrate what Muslim women understand about the hijab and the Qur'anic verses that compel them to cover up. Just as importantly, the film interviews religious scholars, academics and politicians from both Malaysia and Indonesia about the phenomenon of the hijab and its development within Islam and in Malaysia. "Aku Siapa?" is a necessary viewing for those who are curious about the hijab and those who want to better understand political Islam and its impact on women in contemporary Malaysia.
The 50-minute film was followed by discussion and interaction with filmmaker, Norhayati Kaprawi and Dr. Suriani Suratman (Department of Malay Studies, National University of Singapore).

5 - 6 December 2011
The Wahid Institute, Jakarta
Regional Conference on
'Islam and Multiculturalism in Southeast Asia'
organised by The Wahid Institute, Jakarta and Leftwrite Center, Singapore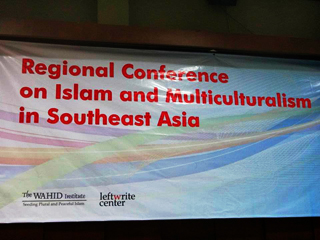 One of the greatest challenges facing many nations in the post-Cold War period is the prevalence of sectarian conflicts based on tribal, ethnic, religious symbolic attachments. The world saw, for example, ethnic-cleansing in former Yugoslavia and genocides in Rwanda and Burundi. We also saw violent conflicts in Indonesian islands of Maluku and Poso. In fact, many countries with high density of diverse population are facing some form of conflict. Developed nations such as Germany, France and even the United States are no exception in facing the threat of primordial conflicts.
Meanwhile, there is fear that the post-9/11 world is heading towards a conflict between Muslim and Christian West civilisations. This is not an unfounded fear, given the evidence that extremists from both sides are utilising religion to push for their political agenda. Osama bin Laden and, more recently, Anders Behring Breivik, are representative of the extreme Right from their respective religious community; they are hijacking religion to further their interest. Among Muslims, there is no doubt that there are competing factions: Between those who devote to God in love and compassion, and those who worship God with hatred towards others; between those who saw the compatibility of religion with modernity, and those who want to return to the caliphate system of the past; between those who want to coexist in peace with the West, and those who saw the West as an enemy.
Evidence shows that the contestation has spread to various parts of the world, including the Southeast Asian region. Countries in this region, such as Indonesia, Malaysia and Singapore, are known to have a highly diverse population. These three countries are also experiencing the development of multiculturalism, but each with its own specificity. Tensions between the 'pribumi' (indigenous) Malays and 'pendatang' (migrants), serve as a unique example in ethnicity and ethnoreligious studies in these countries.
Malaysia, with a population of 23 million, adopts a federal system. The majority, or rather two-third of her population comprised of Malay-Muslims, while the Chinese constitute 25% and Indians 7%. She has a history racial conflicts and thus comes with an experience in handling multiculturalism, be it from the political or economic approach.
Singapore too is a country with a cosmopolitan population. There are 5 million residents and almost half of these are not local born citizens. When the country was colonised by the British, Raffles had invited traders and workers from various ethnic and race to Singapore. In fact, according to historical records, it took just two years since the establishment of Singapore as a colony that the island saw a diverse mixture of population comprising of Malays, Chinese, Bugis, Indian, Arab, Armenian, European and others. Today, the Chinese form the majority with 74.1%, while the Malays constitute 13.4%, Indians 9.2% and others such as Europeans, Arabs and Jews constitute 3.3%. From the Census 2010, the religious composition of Singapore are: 33.3% Buddhists, 18.3% Christians, 17% No Religion, 14.7% Muslims, 10.9% Taoists, 5.1% Hindus, and 0.7% others such as Jews, Bahais, Sikhs and Zoroastrians.
The largest country in Southeast Asia is Indonesia, with a population of 230 million. This country has tremendous diversity in terms of ethnicity, tribe, language and religion. The majority of Indonesians are Muslims (88%), while Protestant Christians constitute 5%, Catholics 3%, Hindus 1.73%, Buddhists 0.61%, Confucians 0.10%, and others 0.11%.
During colonial history, Singapore, Malaysia and Indonesia formed parts of the Malaya. Nonetheless, the cultural and political situation of Singapore had always been different from her neighbouring states. If Malaysia and Indonesia were dominated by 'pribumi' (indigenous) Muslims, it was the Chinese who had been dominant in Singapore. This means that ethnoreligious issues affected Indonesia and Malaysia more than Singapore.
In addition, the advancement of globalisation has made Muslims more receptive to the multicultural framework, including Muslims in Southeast Asia. On one hand, countries with Muslim majority such as Indonesia and Malaysia are facing an influx of foreigners, be it migrants or expatriates. This phenomenon is also observed in countries where Muslims are a minority, such as Singapore.
According to R. W. Hefner, multiculturalism in Indonesia, Malaysia and Singapore develops as a form of cultural transition from colonial to post-colonial era. The fact that the transition has to occur indicates the rapid development of pluralism within the three countries. At the same time, state intervention in citizenship gave rise to ethnic and ethnoreligious issues. The rule of Lee Kuan Yew (Singapore), Mahathir Mohamad (Malaysia) and Suharto (Indonesia), no doubt contributes to the rise of various ethnic and ethnoreligious issues with each country. As feared by Geertz, the cultural transition from colonial to postcolonial society had given birth to competitions that destroyed civility, while at the same time, the process had also convinced many people on the importance of building civil politics and inclusive citizenship.
The above background indicates that the challenges brought by multiculturalism is as dire in Southeast Asia, particularly in Indonesia, Malaysia and Singapore, as in other parts of the world. Thus, continuous attention must be given to this issue. Various strategies, be it structural or cultural, need to be analysed in order to solve the problem of multiculturalism in these three countries.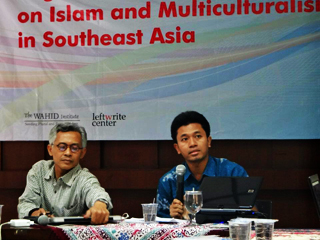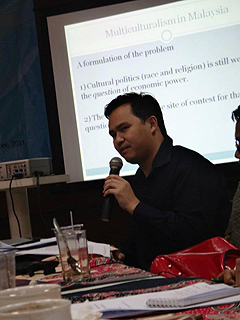 Objectives
1. To identify the problem of multiculturalism in Southeast Asia and propose sustainable approaches to address the problem
2. To identify potential groups to build a network and strengthen intercultural dialogue in Indonesia, Singapore and Malaysia
3. To compare literatures and researches on Islam and multiculturalism in order to develop a new and comprehensive direction in multiculturalism studies within the three countries
Outputs
1. Identification of problems surrounding multiculturalism and proposed solutions in the context of Southeast Asia
2. The establishment of a regional network between the various stakeholders in the three countries
3. Proposed solutions to develop new studies on Islam and multiculturalism in Southeast Asia
Paper Presentations

* Keynote Address: Islam and Multiculturalism in Southeast Asia
by Dr Muhammad Ali [University of California, Riverside, USA]

* Post-Traditionalism and Islam in Indonesia
by Dr. Rumadi [The Wahid Institute, Indonesia]

* Islam and Multiculturalism in Malay Society
by Dr. Azhar Ibrahim Alwee [National University of Singapore, Singapore]
* Shari'a By-Laws in Aceh and Kelantan
by Dr. Khamami Zada [LAKPESDAM-NU, Indonesia]
* Islam in Malaysia and the Multicultural Framework: A Struggle for State Identity
by Ahmad Fuad Rahmat [Islamic Renaissance Front, Malaysia]

* Impacts of Islamisation on Non-Muslims in Malaysia
by Norhayati Kaprawi [Lensa Srikandi, Malaysia]
* Muslim Minority and Multiculturalism in Southeast Asia
by Ahmad Suaedy [The Wahid Institute, Indonesia]
* The Challenges of Multicultural Citizenship: State Communalism and Religious Fundamentalism in Singapore
by Mohamed Imran Mohamed Taib [Leftwrite Center, Singapore]

Study Visits to the following organisations:
* Institute for Human Resource Studies and Development (LAKPESDAM), Nahdlatul Ulama, Indonesia
* Center for the Study of Islam and Society (PPIM), Syarif Hidayatullah State Islamic University, Indonesia